REGISTER NOW

FOR THE 5TH ANNUAL LEAD THE WAY RACE:
HELP US HONOR DEREK SHEELY AND SUPPORT A GREAT CAUSE!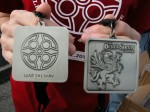 This year's fun run/walk will be on Saturday June 11, 2016 at Northwest High School in Germantown, Maryland. We will start at 8:40am on the track and run and/or walk for 40 minutes. There will be music, medals, food, and door prizes. All funds raised will support our concussion awareness programs and the Derek Thomson Sheely Leadership Scholarship.
CONCUSSION AWARENESS KITS
THE DEREK SHEELY FOUNDATION has created Concussion Awareness Kits as part of our grassroots campaign to reach and inform young athletes (ages 5-18), their parents, and coaches to the signs, symptoms, dangers, and prevention of concussions and traumatic brain injuries. Each kit contains age-appropriate information such as a specially designed pamphlet to provide young athletes the facts and answers about concussions; reminders about concussion awareness such as wristbands, magnets, and pens; and more detailed information from the Centers for Disease Control. Click here to view and print our pamphlet. Please contact me if you are interested in distributing Concussion Awareness Kits to your local youth sports league.
A concussion is a brain injury not a weakness – encourage the reporting of concussions
CAMPAIGN TO PREVENT BRAIN INJURIES
There are an estimated four million sports-related concussions each year. This is one concussion every 8 seconds! All concussions are serious because they are traumatic brain injuries and most occur without the person being knocked unconscious. Concussions happen in every sport, with young children playing football, hockey, soccer, basketball, wrestling, baseball, and cycling at the highest risk.
THE DEREK SHEELY FOUNDATION was created to increase awareness and research of concussions and traumatic brain injuries, with a focus on youth sports. The Foundation is named in honor of Derek Thomson Sheely, a strong and healthy 22-year-old honor student who played fullback for ten years. Derek was a two-time academic all-conference selection in college. On August 22, 2011, during practice for his senior season at Frostburg State University, Derek suffered a brain injury and died one week later on August 28.
With your support, THE DEREK SHEELY FOUNDATION is committed to "Leading the Way" towards informing young athletes, their parents, and coaches to the signs, symptoms, dangers, and prevention of concussions in order to prevent hundreds of thousands of concussions per year from becoming more severe. THE DEREK SHEELY FOUNDATION is a nonprofit, IRS-approved 501(c)(3) tax-exempt organization, and all contributions may be tax deductible.