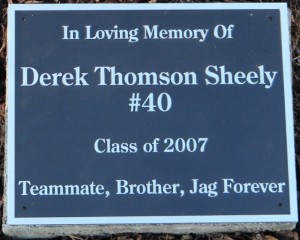 Derek Sheely's family, friends, and teammates gathered at the Northwest High School football stadium on a clear, crisp Friday night in Germantown, Maryland to dedicate an oak tree and memorial plaque in his honor. The ceremony immediately preceded Northwest's 42-14 gridiron victory over Einstein High School. With several thousand fans in the stands and both teams gathered nearby, former Northwest High School football coach, Andrew Fields, led the dedication ceremony. In a speech that honored Derek's pride in his school, love for his teammates, and dedication to help those in need, Coach Fields noted that "we have planted Derek's Oak facing the stadium so that his presence may always provide protection for all athletes in its shadow."
Located just outside the football stadium, along the path the athletes take to enter and exit the field, Derek's White Oak and memorial plaque will serve as a reminder of Derek, his legacy, and sports safety. The plaque reads: "In Loving Memory of Derek Thomson Sheely, #40, Class of 2007; Teammate, Brother, Jag Forever." Coach Fields noted that Derek's "spirit of community service continues through The Derek Sheely Foundation."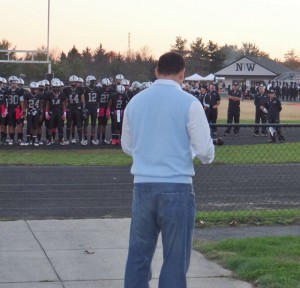 Coach Fields' full speech is printed below:
After high school, Derek joined several of his Northwest brothers to play football at Frostburg State University. As the starting fullback for Frostburg, Derek was twice named to the academic all-conference team.  While preparing for his senior season, Derek suffered a traumatic brain injury during pre-season practice in August 2011, and passed away one week later.
Tonight we honor Derek's pride in his school, his love for his teammates, his passion for football, and his dedication to help those in need. Although Derek was taken from us way too early, his spirit of community service continues through The Derek Sheely Foundation. Created in his memory, Derek's foundation strives to raise awareness about the signs, symptoms, dangers, and prevention of sports-related concussions so young children can safely enjoy the benefits of sports.
Concussions happen in all sports, not just football. And at 3.8 million a year, one concussion occurs every 8 seconds. All concussions are serious because they are brain injuries. Most occur during practice and without the person being knocked unconscious. Unlike other injuries you should never play with a concussion, as it could result in permanent brain damage or death. If this can happen to Derek, it can happen to anyone. Please make yourself aware of the facts by visiting the Foundation's facebook page or website, www.TheDerekSheelyFoundation.org.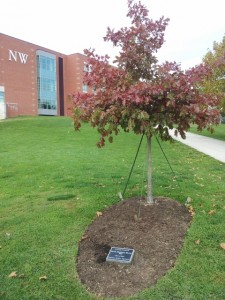 Please direct your attention to the area left of the scoreboard. To honor Derek we have planted an Oak Tree and tonight we dedicate a plaque.
Oak Trees are renowned for their strength and are symbols of endurance. The Oak Tree is the national tree of the United States and the White Oak is the state tree of Maryland. Oaks can reach 80 feet high and 80 feet wide and can live for 40 decades or more.
To honor Derek's strength, dedication, and passion for Northwest football and his Northwest family, we have planted Derek's Oak facing the stadium so that his presence may always provide protection for all athletes in its shadow. To honor Derek's spirit – his family, teammates, and friends will now unveil a plaque that reads:
'In Loving Memory of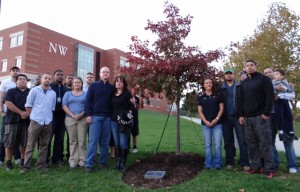 Derek Thomson Sheely
#40
Class of 2007
Teammate, Brother, Jag Forever'
Please, join me now in recognizing Derek. Thank you, Play Smart, and have a great game."