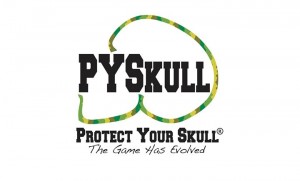 On a chilly November evening in Reidsville, North Carolina, THE DEREK SHEELY FOUNDATION was honored by Protect Your Skull, LLC and presented with a donation of $1,500.00 to promote concussion awareness.
Protect Your Skull founders Foster Wilkins and Tracey Suggs mentored Rockingham County High School senior Damien Thomas on his Senior Project which focused on concussion awareness. Damien distributed THE DEREK SHEELY FOUNDATION's Concussion Awareness Kits and shared Derek's story with his classmates. A graduation requirement in North Carolina, the Senior Project is a year-long guided independent study that includes a research paper and a presentation before a committee.
Kristen and her father, Robert Thomson, were incredibly moved to meet Damien and to be included in a special presentation at halftime on Damien's Senior Night. As Foster reflects on his website, "Moments like this prove that the act of giving builds relationships that will last a lifetime. It was a great night for a great cause; this is only the beginning!"
Many thanks to Damien Thomas, Protect Your Skull, LLC, and the students and staff of Rockingham County High School for your incredible generosity and kind support of us and Derek.