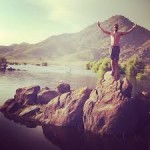 Mitchell Sodersten will begin a journey of a lifetime on March 1, 2015 as he walks across the United States in a compelling effort to increase concussion awareness. While in college, he suffered three concussions in six months playing baseball. These brain injuries not only ended his athletic career, the effects lingered as post-concussion syndrome, propelling him into a deep depression that forced him to lose his self confidence and ultimately withdraw from college. Now, with this once-in-a-lifetime trip across America, Mitch wants to educate others on the potential severity of concussions, while at the same time, hoping to gain back some of what he has lost:  that feeling of strength and invincibility he used to feel as an athlete. We're honored to share that after learning about Derek's story, Mitch was moved to donate 20% of the funds collected for his journey to THE DEREK SHEELY FOUNDATION. 
To follow Mitch on his walk and to donate, please click here.
We send thoughts of safety, well-being, and gratitude to Mitch as he begins his Walk Across America this weekend.