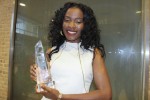 The 2016 Derek Thomson Sheely Leadership Award was presented to Valerie Ehimhen during a ceremony at Frostburg State University on May 5, 2016. This prestigious award recognizes excellence in the classroom and in the community. This year's recipient of the Award is an amazing individual. A Computer Science major and Mathematics minor, Valerie has a cumulative GPA of 3.96, is a Senator for the Student Government Association, Academic Excellence Chair for the National Society of Black Engineers, a 2015 SLOOP Leadership program participant, and tutors students in mathematics.
In her essay for the Award, she wrote:
"[I have] a passion to help students better themselves…Sometimes all a person needs is a little encouragement…I believed in him and I saw great potential in him."
"I plan to continually invest in others so they can succeed…"
"I want to live a life of impact."
The Derek Thomson Sheely Leadership Award honors Derek's spirit of genuine concern for others. Derek understood that leaders acquire influence as a result of the respect they give to others. He understood that influence is more enduring than power. As Derek would say "don't be complacent; keep challenging yourself to get better; what really matters is not what you know but what you do."
The Derek Thomson Sheely Award is presented to the Frostburg Junior with a grade point average of 3.40 or higher who best exemplifies the qualities of leadership that Derek demonstrated. The award includes a $2,000 scholarship and the requirement for 40 hours of community service to increase the awareness of concussions and traumatic brain injuries in sports. Congratulations to Valerie Ehimhen for Leading the Way for Others!