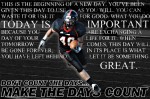 During the last 40 days of 2016, 49 people contributed $9,774.40 to our 40 for 40 Brain Injury Awareness Campaign. We want to express our sincere gratitude for your generous contributions to THE DEREK SHEELY FOUNDATION. Throughout the past year, your donations have allowed us to:
Distribute over 8,500 Concussion Awareness Kits in 18 states and the District of Columbia, reaching more than 34,000 people (since 2012).  Aimed at young athletes and their parents, our kits are free for the asking and describe the signs, symptoms, and dangers of concussions
Present the First Annual Derek Sheely Safety Award to Spartan Medical, a group that works tirelessly to prevent injuries and promote athlete safety
Hold the Fifth Annual Derek Sheely Run/Walk Fundraiser that raises concussion awareness in the community
In addition, after almost three years of hard-fought litigation, a settlement was reached that included terms to increase awareness and research of traumatic brain injuries:
By December 2018, a symposium in Derek's honor that focuses on the reduction of catastrophic risk will be presented to student-athletes, parents, youth, sports medicine personnel, and coaches
By December 2018, a project dealing with catastrophic risk will be recognized with a research award
By June 2017, a video addressing the risks of brain injuries, including second-impact syndrome, will be produced
Our number one goal in 2017 is to expand our scholarship program in order to recognize and support students who exemplify the leadership qualities Derek demonstrated.
And please remember –
"This is a new day.
Today is important because you are exchanging a day of your life for it.
When tomorrow comes this day will be gone forever;
in its place is what you have left behind.
Let it be something great."