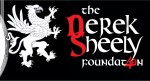 Please join us for a great cause!
The 6th Annual Derek Sheely LEAD THE WAY Run/Walk raises awareness of traumatic brain injuries and honors our beloved son, brother, and friend, Derek Sheely.
The event starts at 8:40am on Saturday June 10, 2017 at Northwest High School in Germantown, Maryland. The event will take place on the track where we will walk and/or run for 40 minutes.
THANK YOU FOR ASKING US TO HOLD DEREK'S RACE AGAIN THIS YEAR! YOUR SUPPORT HAS BEEN TREMENDOUS!!
There will be music, medals, food, and door prizes!
Packet pickup and race day registration ($40) are 7:30 – 8:30am.
There is plenty of parking at the high school.
Many thanks to our sponsors, especially our lead sponsor, Spartan Medical.
This community event is in honor of Derek Thomson Sheely, a strong and healthy honor student who grew up in Germantown and played fullback and linebacker in pee wee, high school, and college football for nine years. Derek was a 2007 graduate of Northwest High School and one of the captains of the football team. He was two-time academic all-conference selection in college. On August 22, 2011, during football practice for his senior season at Frostburg State University, Derek suffered a traumatic brain injury and died one week later on August 28. He was 22 years old. In Derek's honor we created The Derek Sheely Foundation, a nonprofit organization aimed at raising awareness of traumatic brain injuries so that what happened to Derek will not happen to another child.
We hope to see you at the 6th Annual Derek Sheely LEAD THE WAY Run/Walk!
New this year: FUNDRAISING CHALLENGE! Please click here for details and incentives!
We truly appreciate your support over the past six years. Thanks to you, we have awarded six scholarships and have distributed nearly 10,000 Concussion Awareness Kits in 19 states. Our work will continue to educate others on the dangers of concussions; thank you for your continued support.