On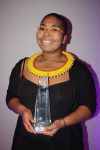 May 4, 2017, the Derek Thomson Sheely Leadership Award and Scholarship was presented to Frostburg State University student, Johana "J" Gourdin.
J is an amazing individual. She is involved in Americorps, Students for Women's Issues, Student Government, Overcome Frostburg, and many other groups that serve her community. She is passionate about and active in causes to help others, especially marginalized people. She herself is a concussion-brain injury survivor. Her essay for the Award provoked laughter and tears. In it she wrote:
"Growing up my…dream jobs were to be a lawyer…a teacher…an artist. I currently find myself trying to blend the three…to reach audiences and teach them to be more conscious of the world around them. To represent the spirit of genuine concern for others that Derek possessed would be an honor…and I would be proud to be a part of his legacy."
The Derek Thomson Sheely Leadership Award is presented to the Frostburg State University Junior, with a grade point average of 3.40 or higher, who best exemplifies the qualities of leadership that Derek demonstrated, both in the classroom and in the community. The award includes a full scholarship for the winner's Senior year at Frostburg and the requirement for 40 hours of community service to increase the awareness of concussions and brain injuries in sports.
Congratulations, J Gourdin! Thank you for Leading the Way for others!